Whether you're a traveler or just a curious person, these festivals from around the world are worth your time. They're not only bizarre, but they're also amazing to witness!
Wife Carrying World Championship
Wife carrying, or eukonkanto in Finnish, is an annual competition that requires men to carry their female partners over a course of obstacles. Held annually in the town of Sonkajarvi, Finland, the event draws thousands of spectators each year and has gained followers around the world.
The competition is based on husband-and-wife teams racing with the man carrying his wife through a regulation-length obstacle course featuring log hurdles, sand traps and the always popular "widow maker" water hazard. The fastest two teams advance to a final heat.
Several types of carry are permitted including the classic piggyback, fireman's carry (over the shoulder) and the Estonian style where the woman hangs upside down on her husband's back with her legs over his neck and shoulders.
The sport drew inspiration from the legend of Ronkainen, a 19th-century robber who required would-be members of his gang to prove their strength by carrying sacks of grain or live pigs. Today, the event is regarded as a humorous twist on the old practice of wife-stealing.
The Baby Jumping Festival
In Castrillo de Murcia, near Burgos, Spain, every June men jump over babies as part of the El Salto del Colacho festival. It's a ritual that dates back to 1620 and involves a blend of catholic and pagan traditions.
The week-long event is organized by members of the Brotherhood of Santisimo Sacramento de Minerva. They parade throughout the town, terrorizing onlookers with whips, while a couple of selected members dress as either El Colacho or El Atabalero (devil and drummer).
Once the devil jumps over the mattresses, their sins are removed and they are free to start a new life. But the festival is considered controversial by church officials, who have told priests to distance themselves from it.
The festival is a part of the local Catholic Corpus Christi celebration and takes place every year after Trinity Sunday. The two chosen members who dress as the devil and drummer each year are responsible for coordinating the entire event, while a second El Colacho is appointed to perform his role the next year.
Cheese Rolling
Every year, thousands of people gather around Cooper's Hill near Brockworth parish in Gloucestershire to watch competitors launch themselves down a hill in pursuit of a round of cheese. This bizarre occurrence is known as the Cheese Rolling Festival and has become one of the world's most unusual 'Feats of Strength' competitions.
The event began as a local tradition but now attracts visitors from all over the world. Previous winners have come from Nepal, Australia and the United States.
Usually held on the Spring Bank Holiday Monday, it is a free event that involves four downhill races, 1 for women and 3 for men. A kid's race is organized as well for younger children.
When the event starts, the masters of ceremony shout "Three to prepare!" The cheese wheel is then released and all of the participants begin to launch themselves down the hill in pursuit of the round of Double Gloucester cheese.
The cheese rolls down the hill at speeds of up to 70 mph, which makes this a challenging and risky sport. The injury rate is incredibly high. It is estimated that 333 injuries occur per 1,000 contestants, making it one of the most dangerous sports in the world.
International Hair Freezing Contest
Every year since 2011, people have taken part in the International Hair Freezing Contest at Takhini Hot Springs in Whitehorse, Yukon. This friendly tournament started as a spin-off of the Yukon Sourdough Rendezvous, a winter festival that celebrates winter sports like dog sledding and snowshoeing.
To compete, participants dip into the waters at a resort in the Yukon, Canada and wait until their hair freezes completely (and their eyebrows and eyelashes). For the best results, the outside temperature must be below -20C.
Then, they sculpt their hair into unusual shapes and take selfies. Eventually, the staff at Takhini collect all submissions and choose winners.
Winners get a $2,000 prize, as well as free soaks in the pools and pass to Eclipse Nordic Hot Springs when it opens next fall. There are five categories, including the Best Male, Female, Group, Tim Hortons' Most Creative and Nongshim Noodles People's Choice awards.
It may seem bizarre, but this competition has grown into a huge annual event that attracts hundreds of visitors from around the world each winter. Unlike other hair-freezing contests that run over a set stretch of dates, Takhini's does not impose a deadline. In fact, it accepts entries daily when the weather is -20C or colder.
Monkey Buffet Festival
The annual Monkey Buffet Festival in Lopburi, Thailand, is an unusual event that celebrates the local population of macaques. It started in 1989 as a way to thank the monkeys for their role in attracting tourists to this out-of-the-way town, 150km north of Bangkok.
Each year, a buffet of fruit is laid out for the macaques in the vicinity of the historic Khmer temple Phra Prang Sam Yot. It is believed that the macaques bring good luck and prosperity to the area.
On the last Sunday of November, hosts remove sheets from long tables and layout decorative spreads of fruit that monkeys love. The table displays include a variety of watermelon, durian and other exotic tropical fruits.
The festival is held annually in honor of the monkey population in Lopburi, and it's a popular attraction for both tourists and local residents. There are musical performances and dances that draw the monkeys in, and vendors and food stalls set up to feed humans.
Boryeong Mud Festival
South Korea is renowned for its frenetic cities and birthing of K-pop, but it's also home to some unusual festivals. One of the most popular is the Boryeong Mud Festival, which attracts millions of domestic and international visitors every year.
The mud fest takes place at Daecheon Beach in the town of Boryeong, about 200km away from Seoul. It began in 1998 as a marketing effort to promote cosmetics made from the mineral-rich mud that is harvested from the Boryeong mud flats.
But it has grown into something much bigger than just a promotional campaign. The festival is now one of the most popular summer festivals in South Korea.
As such, thousands of revelers come from all over the country to slather themselves in the mud and compete in events like mud wrestling, mud sliding and mud swimming. It's a truly muddy experience, but it's also an unforgettable one.
If you're heading to the Boryeong Mud Festival, it's best to plan your lodgings and transportation in advance. You can find a hotel near the festival or you can stay in the city itself and get round trip transportation to all the venues.
Burning Man
Originally created as a small gathering of friends near San Francisco, the Burning Man festival has grown into an international phenomenon with over fifty thousand celebrators attending each year. The event is known for its creative displays, surreal art-inspired vehicles and buildings, and its unusual culture of bartering and trade.
The 'festival' is organized around 10 principles, including Freedom from the Law of the Market; Commitment to Leave No Trace; Community; Environmental Stewardship; and Consent. The goal is to bring people together in a temporary environment that encourages everyone to be creative and explore their own inner power.
Attendees must bring their own supplies, such as water, food, and tents. There are no shops or restaurants at the festival, and participants must barter for any goods.
The festival takes place in the Black Rock Desert in Nevada. A temporary city, called "Black Rock City," is erected in the desert to accommodate the crowd. The festival began in 1986 with a single sculpture and grew rapidly to the large event it is today.
World Toe Wrestling Championships
It's a bizarre competition that attracts interest from around the world. Despite the International Olympic Committee refusing to label it an official sport, toe wrestling continues to thrive.
The competition began in 1974 at a pub in Staffordshire, England. It was invented by a group of friends who wanted to create a sport where British people could win.
This game is similar to arm wrestling but instead of using arms, competitors use their feet to lock toes and pin the other player's foot for three seconds. Players compete in three rounds and the winner is decided based on the best two rounds.
During the match, players must remove their shoes and socks so that they can play barefoot. The game also requires them to undergo a full toe inspection by a podiatrist before participating in the tournament.
The first toe wrestling championships were held in 1974 in Staffordshire. Four drunken friends created the sport after noticing that the UK wasn't producing enough champions in other sports.
La Tomatina
La Tomatina is a festival where people throw tomatoes at each other for hours on end. It's held in the little town of Bunol, near Valencia in Spain and attracts tens of thousands of participants each year.
It started in 1945 when a group of young people got into a fight at the town square. Rather than trying to take down their opponents, the fighters simply started throwing tomatoes at one another in the middle of the fight. It's unclear why this happened, but the townspeople of Bunol kept reviving this tradition until it was banned during Spain's fascist regime under Francisco Franco.
While there's no definitive answer to how the first tomato fight took place, there are a few theories as to why. Some say it was prompted by village rivalries, while others claim that it was an anti-Franco protest.
The main reason behind the frenzied throwing of tomatoes is that it's fun and exciting! But there are a few important rules to keep in mind when throwing them.
– Bring a sturdy pair of gloves, as they can protect your hands from the acidity that tomatoes have when they're thrown around. – Don't grasp the clothes of your opponent, as it can make them vulnerable. – After the end signal, follow the instructions from the staff to get out of the soiled zone safely.
During the event, trucks filled with ripe tomatoes are brought to the city square and participants have one hour to throw as many tomatoes as they can in the face of other participants. The streets are then cleaned by the fire department, thanks to the citric acid that tomatoes contain.
World Bog Snorkeling Championships
The World Bog Snorkeling Championships may not be on your list of must-do festivals, but this offbeat event in Llanwrtyd Wells, Wales is one that is definitely worth checking out. It takes place on the August bank holiday and features food, drink, real ale and cider, craft stalls, a bouncy castle and a whole lot more.
Participants dress in curious suits, and they swim through a 60-yard peat bog trench using flipper power. They also wear a snorkel mask, fins and a wetsuit to protect them from the water.
Several times a year competitors from all over the world come to the World Bog Snorkelling Championships, held in Waen Rhydd Bog on the outskirts of Llanwrtyd Wells. The competition is organized by Green Events, which hosts a whole range of unusual and quirky festivals, including the Man v Horse Marathon and Real Ale Wobble mountain bike event.
Bob Greenough, who works for Green Events, says that the event grew out of a need to attract visitors after people stopped visiting the town as it had become a spa town, and it was no longer possible to swim in the natural sulfur wells.
There were a few other ideas, including digging a swimming pool in someone's back garden, but eventually, bog snorkeling was born.
It's held each year on a bank holiday in August and is hosted at Waen Rhydd Bog, which is on the outskirts of Llanwrtyd Wells. Spectators can either walk to the bog or take a shuttle bus. There are prizes for the fastest time in each category, as well as age groups.
Air Guitar World Championship
Air guitar is a type of musical instrument that is played by pretending to play an invisible guitar while dancing along to the music. It is a unique style of musical expression and is used to make people happy. It is also a great way to promote world peace.
The Air Guitar World Championship was arranged for the first time in 1996 and is now an annual event that takes place in Oulu, Finland. The contest is a celebration of love and big emotions, as well as a plea for peace. The event's motto is "Make air, not war."
There are many ways to play an air guitar, but one of the most popular is to mimic the playing style of a real guitar player. There are a variety of different songs that can be played on an air guitar, including classic rock, heavy metal and pop music.
Several national air guitar competitions are held around the world each year. The winner of each country competes at the AGWC finals in Oulu, Finland.
If you are an air guitarist, you can enter the competition by submitting a song and entering the Black Horse Qualification Round. The winner of this round will be awarded a ticket to the finals in Oulu.
In order to compete, you must have a high-quality audio clip of your performance. You can submit the clip on the official site.
The Air Guitar World Championship is a fun and entertaining event that promotes peace and shows off the best air guitar players from all over the world. This is a perfect way to show off your skills and impress everyone!
The next Air Guitar World Championship will take place in 2023, and you can buy tickets to this exciting event. Visit the website to learn more about this event and to purchase your tickets today!
Cheung Chau Bun Festival
Cheung Chau is a small dumbbell-shaped island that sits ten kilometers southwest of Hong Kong. This tiny island has a population of around 10,000 people and is home to one of the most unusual and bizarre festivals from around the world: The Cheung Chau Bun Festival.
It's a weeklong celebration that draws tens of thousands of locals and tourists to the tiny island for dragon dances, parades, floats and huge bamboo towers covered with handmade buns. The religious origin of the festival has largely been forgotten but it remains a showcase for traditional Chinese culture.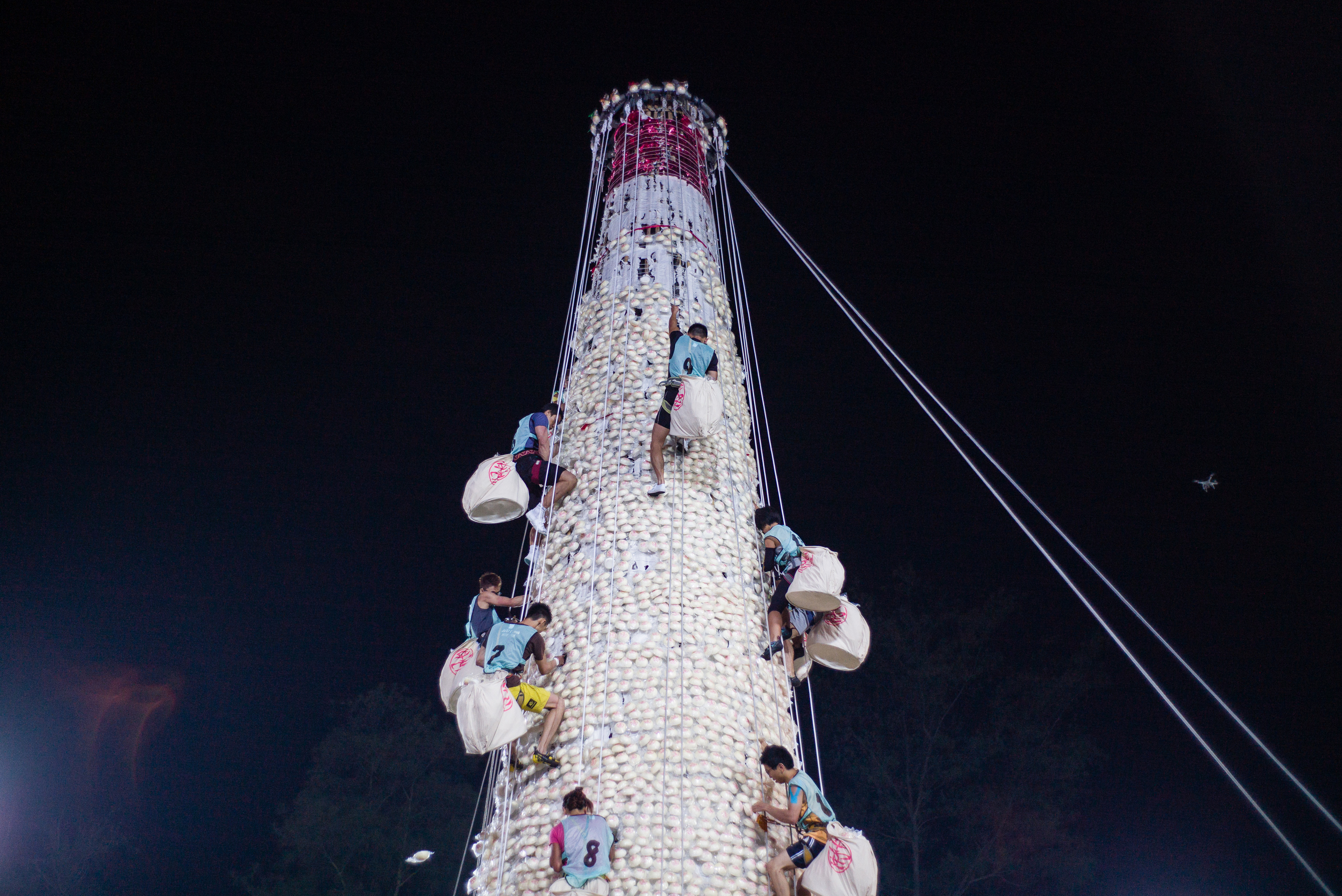 In order to help bring in the festival's luck, locals bake dozens of doughnut-like buns filled with sesame seeds, lotus seeds or red bean paste. These steamed buns are stamped with the Chinese characters for 'Ping An' (peace) and serve as a symbol of luck.
The main event of the festival is a bun scrambling competition, which takes place at midnight on the third day. Participants race up towers that are filled with steamed buns, trying to collect as many as possible.
At first glance, it looks like a typical Olympic event but there is something very special about it, as it was originally a mass activity that involved men running up bamboo towers to grab the highest buns that they could, hoping that the higher buns would bring them good fortune. Today the three towers are built using sturdier steel frames and there is a controlled climbing competition.
It's a very entertaining way to spend an evening. In addition to the bun scrambling competition, there is also a dragon dance, lion dances and drumming. You can even catch a glimpse of some amazing local talent.
Underwater Music Festival
In the Florida Keys, hundreds of divers and snorkelers gather each year for an underwater music festival. Called Lower Keys UMF, the event encourages eco-conscious diving and reef protection. It's held at Looe Key Reef, a part of the Florida Keys National Marine Sanctuary, about six miles south of Big Pine Key.
The festival involves hundreds of people descending into the coral barrier and playing sculpted "instruments" to the tune of ocean-themed songs that are piped underwater via speakers. This is one of the most unusual and bizarre festivals in the world, but also an amazing experience for its participants.
For the musicians, this is a grand opportunity to showcase their talent in front of the audience and promote reef conservation. They use specially sculpted instruments (such as "fluke-a-leles" and "trom-bonefish") that are made by local artist August Powers.
This mermaid-themed concert is held annually on Saturday after July 4th at Looe Key Reef, an area of the Florida Keys National Marine Sanctuary about six miles south of Big Pine Key. The four-hour concert consists of music and diver awareness announcements that are broadcast through speakers dangling above the reef.
During the performance, participants wear costumes and pose underwater playing sculpted instruments. The creations are called "trom-bonefish," "sea-phan flute," "Fluke-a-Lele" and others with ocean-themed names.
The scuba divers feel as if they are swimming along with the music because the sound travels 4.3 times faster in water than in air. It creates a surround-sound effect, reaching the ears instantly.
Up Helly Aa
Every year on the last Tuesday in January, Shetland celebrates Up Helly Aa – the islanders' annual fire festival. Onlookers travel miles to see the spectacular parade of hundreds of guisers (male participants in costume) dressed as Vikings.
They don their best clothing, light torches and march through the town streets accompanied by a brass band. The highlight is the burning of a replica of a Viking longboat.
The tradition of 'tar-barrelling' dates back to the 19th century and saw young men rolling burning barrels through narrow streets, humiliating law enforcers. However, the practice was banned in 1874.
Up Helly Aa has only been canceled three times in its 150-year history. Once for the death of Queen Victoria (1901), once during the First World War and once due to a disease called Covid-19.
Las Bolas de Fuego
There are plenty of festivals in Latin America, including one that involves hurling "fireballs" made from gasoline-soaked rags. Las Bolas de Fuego, or "Balls of Fire" festival, takes place in August in the city of Nejapa, located 30 kilometers (about 18 miles) north of San Salvador, El Salvador's capital.
Locals gather on the evening of 31st August to launch palm-sized kerosene fireballs in remembrance of the El Playon volcano eruption in 1658 that forced them to leave their hometown. Today, the people of Nejapa split themselves into two teams and paint their faces to resemble skulls before launching fireballs at each other in a reenactment of that day.
Despite its apparent dangers, the fireball fight has yet to result in any serious injuries. However, the crowd is surrounded by police and paramedics on-site in case of accidents or fires.
Banni
Festivals are a big part of the world's culture. They bring together people from all over to celebrate music, film and food – but there are also plenty of weird and wonderful festivals that go beyond the expected.
Whether it's cheese rolling in England or baby jumping in Spain, these festivals defy imitation and showcase the unique cultural customs that locals have developed.
The Torajans in Sulawesi have a holiday that makes Halloween and Dia de los Muertos look like child's play. It's called Ma'nene and involves digging up a dead person, washing it and then dressing it up in their favorite clothes.
Onbashira
Onbashira is an annual festival that takes place at the Suwa Taisha shrine in Japan. It's been celebrated for over 1200 years and involves a series of rituals and techniques that are passed down through generations.
For a few months each year, 16 freshly cut fir tree trunks are moved from the forest to the shrine grounds. They're then erected at the four corners of each shrine.
It's a huge task that requires many people to participate. They cross rivers, navigate narrow Japanese streets and even ride the logs downhill.
The festival is divided into two main stages. The first is called Yamadashi and consists of transporting the cut fir logs downhill to the Kamisha shrine grounds.
Crucifixion Festival
The crucifixion of Jesus Christ is an important event in Christianity, which marks the end of His life. It is a time for Christians to commemorate and praise Jesus.
It is also a time for forgiveness, peace and eternal life. Those who believe in the Christian religion can receive these benefits if they accept Jesus' teachings and live a life of good works.
But not all Filipinos follow this route. Instead, they take it a step further with what can be deeply unsettling displays of their religious devotion and superstitions.
Kurukshetra Fire Festival
The Kurukshetra Fire Festival, or Bharathakoothu, is a bizarre and fascinating celebration that takes place in November every year. It is devoted to the goddess Draupadi and celebrates her fight with the Kauravas after they attacked her temple in Kurukshetra.
Devotees walk on burning coals to pay homage to Draupadi and claim their faith in her. This is an ancient Hindu tradition that dates back to the Mahabharata.
During this annual event, devotees are allowed to walk on the fire, as long as they keep their hands and feet covered. It is believed that this is a way to honor the goddess and prove her innocence.
The festival is also a great opportunity to learn more about the Bhagavad Gita, which was recited by Lord Krishna at Kurukshetra during the battle of Mahabharata. Pilgrims from all over the world travel to Haryana to celebrate this unique festival.
Japanese Sumo Festival
Sumo is a big, bold and steeped-in history sport that's so quintessentially Japanese that it can be hard to imagine it anywhere else. While it may not be a popular national sport outside Japan, if you're a fan of this adrenaline-pumping sport then it's definitely worth watching a tournament while you're in the country.
If you're interested in watching a sumo match then there are several ways to get tickets to watch a live bout. You can either purchase ringside seats which allow you to sit on a pillow right next to the ring, or buy box seats which are closer to the action and usually cheaper than ringside.
Hungry Ghost Festival
In Chinese culture, the Hungry Ghost Festival (also known as Zhong Yuan Jie) is a special occasion to honor ancestors. It's one of several traditional festivals that Chinese people hold to honor their dead.
During the Hungry Ghost Festival, families prepare meals to please hungry ghosts and leave empty seats at their tables as symbols for deceased family members. They also burn paper money, joss incense, and pray to their ancestors.
This festival is rooted in Taoism and Buddhist beliefs, which believe that the gates of Hell open during this time and that souls are free to roam around in the human world for a month. They can get up to mischief if ignored, so it's important to follow some precautionary measures during the celebration.